Call (888) 776-0959 Today
West Side Transport, based in Cedar Rapids, IA, has been in business for over 45 years. Started by the Vogt family, cleaning grain spills at train yards with just a few trucks and has now grown into a 600 truck operation, still family owned and operated. Don Vogt, the owner, still drives a truck to this day in order to have a working understanding of what our drivers experience on a daily basis in order to know what changes need to be made to better accommodate our drivers.

99% NO Touch Freight
EZ Pass* to keep you moving!
Name Your Bonus*
Driver Trainers make $1,200 or more per month in addition to their mileage pay
Full Benefits Offered – BlueCross BlueShield (Medical, Vision, Dental)
401K Company Match (Up to 6%)
Driver App enables you to receive all load information on your smart phone.
Dog Policy
Rider Policy* - we believe in family, take the kids, show them the country!
*Restrictions may apply, speak to a recruiter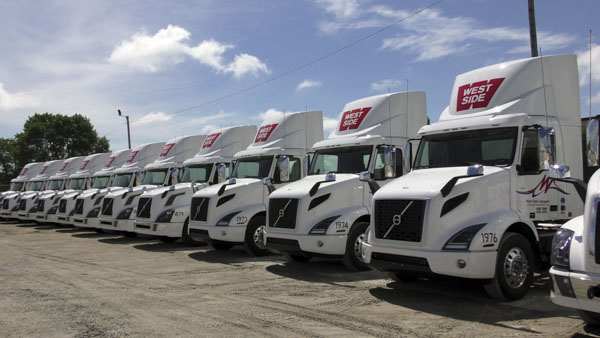 Home Daily CDL-A Truck Driver
Join
West Side Transport
to continue your wonderful career as a Class A CDL Truck Driver by choosing our Home Daily position. As a Home Daily Driver, you will be running close to home freight to various customers in the region. Depending on experience, you can expect to make $55,000 to $65,000/year.
$55,000 - $65,000 per year
$1,100 - $1,200/week (.55cpm - .73cpm)
Home Daily
PTO Bonus - Earn 17 days off/year! (All home daily positions only)
Driver Trainers can earn an additional $.11/CPM
Late Model Tractors (Volvo, Freightliner, International)
401K with Company Match Up to 6%
Full Benefits - Medical, Vision, Dental Available
Driver App - receive all info. on your phone!
Apply online, or Call (888) 776-0959 Today!