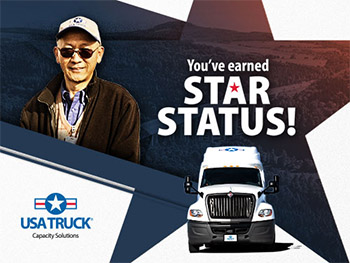 USA Truck CDL-A Driving Opportunities
Call a USA Truck Specialist today to find out more!
(866) 395-6755
Drive More! Earn More Weekly with USA Truck!
Earn up to $0.52½ CPM weekly
Running Area: East of I-35
Details include:
USA Drivers EARN UP TO $0.52½ CPM WEEKLY!
Fleet Averages: 2,100-2,500 miles per week
On the road in ONE DAY with USA!
With our one-day paid orientation ($170), we keep contact limited so you stay safe and healthy as you join the USA Truck family.
CDL-A Regional Truck Driver Benefits:
NEW SIGN AND STAY BONUS!
Competitive pay (Certified Top Pay Carrier)
Newly increased CPM rates for Midwest Regional drivers

Start off earning $0.42 CPM with six months' experience!

Choose the run that works for you:

Home weekly for 34-hr reset;
Or 10-14 days with 1 day off for every 7 days out

Twenty-year regional pay schedule with annual increases
Loyalty Bonuses that reward driver tenure
Monthly $0.01 CPM Fuel/Idle Bonus
Average 2,100 – 2,700 miles/week
Rider policy
Pet friendly
Medical, dental, vision and life insurance
$4,000-$5,000 Driver Referral Bonuses – Ask a recruiter for details
Paid Time Off that increases with experience
401(k) + match
Employee Stock Ownership Plan
CDL-A Regional Truck Driver Job Requirements:
Must be at least 21 years of age
No more than 3 moving violations in last 36 months
No more than 2 collisions, incidents, or accidents in last 36 months
No DUI, DWI, or moving violations involving drugs or alcohol in the last 10 years
Stable work history
Valid CDL-A and Medical Card
Apply with USA Truck Today
If you have Tractor Trailer Experience,
fill out our
QUICK APP
form and a recruiter will contact you right away.
(866) 395-6755