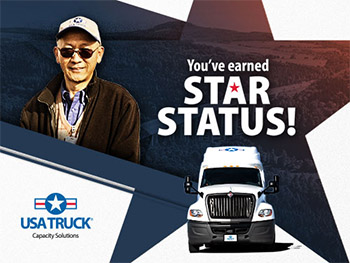 "Have you ever wanted to plan your own loads?
Well now you have the freedom to do so".

Load board drivers have the opportunity and freedom to plan their work schedule around how they want to drive. Using the USA Truck custom load board app, drivers can see all available loads in a specific market and plan their week out accordingly.
We also have additional benefits!
Speed of trucks are 68 on foot and 70 on cruise
$100 Holiday Pay (7 opportunities!)
Drive Protected- $50k of Basic Life & Accidental Death at no cost to you
Drive Retirement- 401k ( USAT matches 50% of first 4%)
Employee Assistance Program
U.S. Legal Services (CDL Defender, Family Defender, ID Defender)
Apply with USA Truck Today
Fill out our
QUICK APP
form and a recruiter will contact you right away.
(866) 395-6755