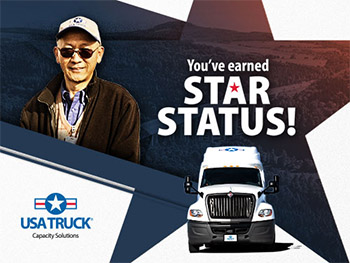 We are Hiring Now for Shuttle Drivers!
Local | Home Daily
Drive more, EARN MORE.
Accelerate your earnings with weekly Productivity Pay.
Call to learn more!
866-395-6755
USA Truck has shuttle driving opportunities now open!
As a shuttle driver, you'll enjoy:
DAILY HOME TIME on a regular, consistent schedule
Starting pay $0.52 per mile
Per diems of $0.3575 to $0.3975 (taxable) and $0.10 (non-taxable)
Increases based on your experience at the time of hire and your hiring region.
USAT shuttle drivers are also eligible for our monthly fuel incentive. This bonus earns you an additional $0.01 per mile for achieving your monthly idle and fuel goals.
We also have additional benefits!
Speed of trucks are 68 on foot and 70 on cruise
$100 Holiday Pay (7 opportunities!)
Drive Protected- $50k of Basic Life & Accidental Death at no cost to you
Drive Retirement- 401k ( USAT matches 50% of first 4%)
Employee Assistance Program
U.S. Legal Services (CDL Defender, Family Defender, ID Defender)
Take The Next Step
A better driver experience starts here.
Call us today or click link below to connect to USA Trucks, easy QUICK APP.
866-395-6755