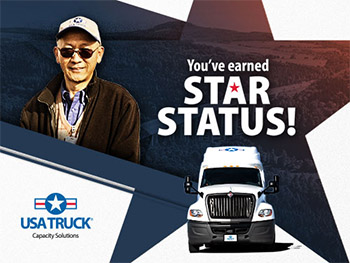 We are Hiring Now for Experienced Dedicated Routes!
Dallas, TX Area
Drive more, EARN MORE.
Call to learn more!
866-395-6755
USA Truck Dedicated Services Division is growing and expanding and now is the time to join! We are now hiring Class A CDL Truck Drivers who live within Dallas, TX area.
Details include:
Runs ND, CO, TX, FL, MI
Home time is 2 weeks out and 2 days home
2,200-2,600 miles per week
Pre-loaded trailers
Delivering mult-stop (3-5) loads, to Staples stores
We offer a wide range of benefits:
Fuel, loyalty & referral bonuses
Rider policy
Pet friendly
Medical, dental, vision, & life insurance
Paid Time Off that increases with experience
$4,000 Referral Bonus
401(K) plus match
Employee Stock Ownership Plan
Trainer and career path
Take The Next Step
A better driver experience starts here.
Call us today or click link below to connect to USA Trucks, easy QUICK APP.
866-395-6755