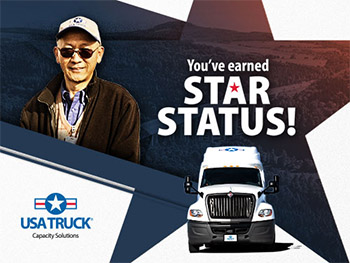 Drive more! Earn More Weekly
as a Team Driver with USA Truck!
Teams earn $200,000 per year
with HIGH MILES and OUTSTANDING ADVANTAGES
Call to learn more!
866-395-6755
CDL-A Truck Driving Teams have top earning power -- $200,000 per year with high miles!
USA Truck, a Certified Top Pay Carrier, offers enhanced benefits and high earning power for CDL-A truck driving teams. It all starts with HIGH MILES – up to 6,500 per week and just gets better from there. Experienced team drivers at USA Truck enjoy rates of $0.55 CPM with twelve months' experience! Take a look at our OUTSTANDING ADVANTAGES – you'll be glad you did!
We offer eligible CDL-A Team Truck Drivers:
HIGH MILES! Up to 6,500 miles per week
95% no-touch freight
Pets welcome!
Drop and Hook with next ore-plan dispatches
Team Division Leader plans all trucks to ensure miles
Home time is 1.5 days per week - maximum 10 days off in a row
On the road in ONE DAY with USA!
With our one-day paid orientation ($170), we keep contact limited so you stay safe and healthy as you join the USA Truck family.
Additional advantages for Teams include:
Trucks are equipped with a 1500-Watt to 1800-Watt invertor
Annual Loyalty Bonus paid in December up to $5,000 per driver per year
Driver Referral Bonus - $5,000 per experienced team paid in full within 6 months
401(k) savings plan with company match up to 4%
$20,000 Company Paid Life Insurance Policy per driver
Medical, dental and vision insurance, plus flexible spending options
Paid orientation and time off
Up to $5,000 tuition reimbursement (paid at $100/month) for qualified drivers
Credit for Military Experience
Driver Advisory Board that includes Teams
Discount program - enjoy year-round discounts and special offers from national and local companies
Mobile Tablet Based Communications - the latest in-truck technology with electronic logging, GPS navigation
100% Van Truckload Team trucks have automatic transmissions
PRODUCTIVITY PAY MEANS YOUR TEAM CAN GET PAID MORE FOR EVERY MILE YOU DRIVE!
4500 – 4749 miles = Additional $0.005 CPM weekly
4750 – 4999 miles = Additional $0.010 CPM weekly
5000 – 5249 miles = Additional $0.015 CPM weekly
5250 – 5499 miles = Additional $0.020 CPM weekly
5500 – 5749 miles = Additional $0.030 CPM weekly
5750 – 5999 miles = Additional $0.040 CPM weekly
6000 – 6249 miles = Additional $0.050 CPM weekly
6250 – 6499 miles = Additional $0.060 CPM weekly
6500 miles = Additional $0.070 CPM weekly
CDL-A Team Truck Driver Job Requirements:
Must be at least 21 years of age
No more than 3 moving violations in last 36 months
No more than 2 preventable collisions, incidents or accidents in last 36 months
No DUI, DWI or moving violations involving drugs or alcohol in the last 10 years
Stable work history
Valid CDL-A and Medical Card
Take the Next Step
A better driver experience starts here.
Call us today or complete form below to begin your application
866-395-6755