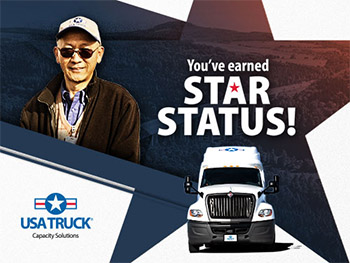 Flatbed Driver, PODS Dedicated
Target Pay: $75,712 | Excellent Driver Benefits
Call to learn more!
866-395-6755
Job Details
Up to $0.56 CPM depending on experience and location
$450/ month on target bonus pay – Monthly $0.04 CPM bonus
POD's drivers average up to $75,712 in mileage pay with on target production
Home every other week
2600 miles per week on average
$700 Holiday Pay - 7 Paid Holidays
$8,000 referral bonus pay – planned 2 driver referrals per year
Flatbed, no tarping or chaining except for strapping the containers.
Delivering to HUB and Franchise locations.
Experience:
Dedicated Driver Benefits
Annual retention bonus up to $5,000 per year
Medical, dental and vision insurance, plus flexible spending options.
$50,000 in Life and AD&D insurance coverage for free
401(k) savings plan with company match.
7 paid holidays.
Tuition reimbursement (up to $5,000).
$4,000 Unlimited referral bonus.
Credit for Military Experience.
Dedicated Driver Qualifications
Valid Class A Commercial Driver's License (CDL).
Automated transmission CDL restriction allowed.
More reasons to choose Dedicated
Home time options – You know exactly when and how often you'll get home.
Weekly paychecks – Your weekly paycheck will reflect the consistent miles you drive on a weekly basis.
Familiarity – You get to know the routes you drive and the customer you work with.
Take The Next Step
A better driver experience starts here.
Call us today or click link below to connect to USA Trucks, easy QUICK APP.
866-395-6755