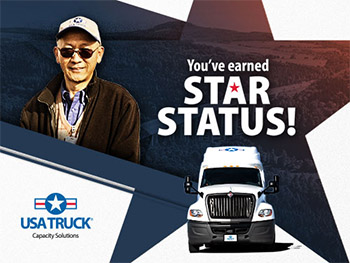 We are Hiring Now for Shuttle Drivers!
Local | Home Daily
Drive more, EARN MORE.
Call to learn more!
866-395-6755
USA Truck has shuttle driving opportunities now open!
As a shuttle driver, you'll enjoy:
DAILY HOME TIME on a regular, consistent schedule
Starting pay $0.52 per mile
Per diems of $0.3575 to $0.3975 (taxable) and $0.10 (non-taxable)
Increases based on your experience at the time of hire and your hiring region.
We also have additional benefits!
Speed of trucks are 68 on foot and 70 on cruise
$100 Holiday Pay (7 opportunities!)
Drive Protected- $50k of Basic Life & Accidental Death at no cost to you
Drive Retirement- 401k ( USAT matches 50% of first 4%)
Employee Assistance Program
U.S. Legal Services (CDL Defender, Family Defender, ID Defender)
Take The Next Step
A better driver experience starts here.
Call us today or click link below to connect to USA Trucks, easy QUICK APP.
866-395-6755