Company: Climate Express (info)
Position: CDL A Drivers - ALL Practical Miles Paid
Location: Greensboro, IN (USA)


Job Type: Full Time
Minimum Education: High School / GED
Post Date: 03/12/18
Compensation:
Ref #: IN-Greensboro

Please mention you saw this job on
JobsInTrucks.com!

CLASS A CDL TRUCK DRIVING CAREER OPPORTUNITY

GREAT HOME TIME!


Veterans Welcome to apply!!!!!
Prior Felonies welcome to apply!!!!
We are looking for SAFE DRIVERS!!!

Small, Established, Financially sound, and Privately owned Company!



NO New York City, NO Hazmat loads, NO TWIC Card loads.



Due to the increased demand for our transportation services, we have expanded our Fleet.

We are looking for SAFE, experienced drivers to grow with us!

Voted Carrier of the Year by Hershey in 2013!
We don't bribe drivers to our company with sign on Bonuses- We want YOU here because it's where YOU belong.

We reward our current drivers for sending us SAFE drivers like themselves with Driver Referral Bonuses.

Everything that we talk about before YOU are hired will not change after you are hired.

No hidden driver fees. If you never looked at your weekly settlement you would know what your paycheck would be.

Communication is encouraged and nurtured with assigned Driver Managers. Meet face to face with your driver manager on a regular basis.
Management and support staffs are also available to all employees internal or external.
EQUIPMENT:
2012-2015 well-maintained 12 speed Automatic I-Shift Volvo 670's

All 165 tractors are assigned. No slip seating. Take the truck home.

Pull Reliable 53ft road worthy Vans and Reefers

Apu's on trucks

Scales on truck and trailers.

Qualcomm for communication purposes.
SAFELY ASSIGNED LOADS:
We assign loads that YOU can safely deliver.

If you can't make it legally, don't do it!

We have a good DOT rating and we want YOU to have one too!!

We work hard so YOU can SAFELY maintain a 3000 mile week average

Most loads 1 pick/1 drop or drop and hook.
HOME TIME:
When YOU are due to go home, YOU go home.

Drivers on our main freight lanes get home every other weekend.

Some drivers get home weekly on drive through. This is especially true throughout Missouri, Dallas, TX and Denver, CO.
Want to bring a passenger? No problem. Anyone 12 years of age or older can ride with you.

*Small/Medium size dogs welcome with pet cleaning fee.
PAID WHAT YOU EXPECT:
We pay YOU LOADED or EMPTY the SAME.

We pay YOU on PRACTICAL MILES.

Detention Pay, Layover Pay.

Weekly Direct Deposit. Settlement sheets are available to you prior to payday

Trans-flow for immediate processing of paperwork for pay

Pay based on experience and driving record

FULL BENEFITS PACKAGE:

Medical, Dental, Life, Vision, 401K w /Employer match, Paid Vacations

RAISES AND BONUSES:

Annual Raises, Annual Safety & Performance bonus, DOT inspection bonuses, Driver Referral Bonuses, Driver of the month and Driver of the year Bonus.

MINIMUM REQUIREMENTS:

Class A CDL

1 year OTR; or 2 years tractor-trailer experience

No excessive moving violations in the past 3 years

No serious preventable accidents in the past 3 years

If you are a CDL Driver and seeking a new truck driving position please call Karen at 636-584-6073 or apply online below.

www.climateexpress.com
Please Apply Online Below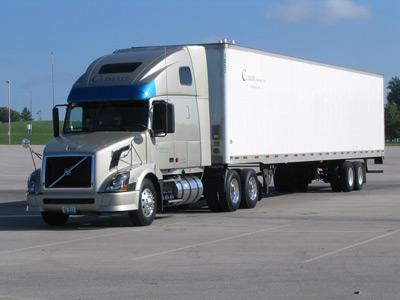 Please mention you saw this job on
JobsInTrucks.com!

Use your back button to return.